&nbsp


Click Here to Order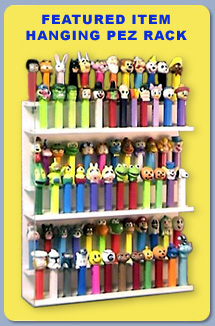 More information on Pez Displays
MASTERCARD * VISA * DISCOVER
AMEX gladly accepted.

If you prefer, you can also order by
telephone. Please call (650) 347-2301.
Our hours are 10:00 am - 6:00 pm
Pacific Time, Tuesday - Saturday.

Our address is:

Computer Spectrum c/o
Burlingame Museum of
PEZ Memorabilia
214 California Drive
Burlingame, California USA 94010.

&nbsp


Traveling to the
San Francisco Bay Area?

Make our museum
part of your visit!

This Web Page is not affiliated with Pez Candy, Inc. Pez is a registered trademark of Pez Candy, Inc. You can contact the Pez candy company at Pez CANDY, INC., 35 Prindle Hill Road, Orange, CT 06477.

&nbsp

&nbsp
Madagascar Penguins Pez Dispensers

Late in 2014, Pez Europe released dispensers based on characters from the film "Penguins of Madagascar".

There are 4 characters to this set:

• Skipper
• Rico
• Kowalski
• Private

This set of 4 is sold loose.

The set of 4 Madagascar Penguins Pez dispensers is $23.95, sold loose.

Click here for BIGGER picture &nbsp &nbsp &nbsp &nbsp &nbsp
---
Exclusive
Limited Edition
Burlingame Museum of
PEZ Memorabilia
Pez Dispensers

Made by Pez Candy Inc. in 2010, these Pez dispensers were uniquely printed with "Burlingame Museum of PEZ Memorabilia" on the stem.

This exclusive set of 6 dispensers includes:

- Sour Watermelon Pez dispenser
- Sour Apple Pez dispenser
- Sour Pineapple Pez dispenser
- Sour Raspberry Pez dispenser
- Blue Pez Regular
- Red Pez Regular

Each dispenser is "in package" with Pez candy. Only 220 sets are available in this Limited Edition release. Each set includes a numbered certificate.

The 'Burlingame Museum of PEZ Memorabilia' Limited Edition Pez Dispenser set of 6 is $29.95.


Click here for BIGGER picture &nbsp &nbsp &nbsp &nbsp &nbsp

&nbsp

&nbsp

---
Littlest Pet Shop Pez Dispensers

Based on toys and an animated series from the Hasbro Toy Company, the Littlest Pet Shop Pez dispensers are a European release.

There are 3 characters to this set:

• a baby kitty
• a baby puppy
• a baby monkey

These are very cute dispensers.

The set of 3 "Littlest Pet Shop" Pez dispensers is $21.95, sold loose.

Click here for BIGGER picture &nbsp &nbsp &nbsp &nbsp &nbsp
---
Chick-Fil-A COW Pez Dispenser

Chick-Fil-A restaurants, a fast food restaurant chain based out of Atlanta, Georgia, released a unique Cow Pez dispenser in October 2008.

Their T.V. and print ads feature a cow saying "EAT MOR CHIKIN." If the cow can get you to eat more chicken, he won't have to become hamburger!

Their slogan "EAT MOR CHIKIN" is printed on the front of the stem, and their Chick-Fil-A logo is printed on the side.

The Chick-Fil-A COW Pez dispenser, Mint in Bag, is $9.95.

Click here for BIGGER picture &nbsp &nbsp &nbsp &nbsp &nbsp
---
BEE MOVIE PEZ

Released in 2007, BEE MOVIE is an animated feature starring the voices of Jerry Seinfeld and Renée Zellweger.

It is a comedy about bees and honey.

There are 4 characters to this set:

- ADAM (wearing glasses)
- BARRY B. BENSON
- JACK
- VANESSA

The BEE MOVIE set of 4 is $12.95, Mint-in-Package.

Click here for BIGGER picture &nbsp &nbsp &nbsp &nbsp &nbsp
---
OPEN SEASON Pez

In the summer of 2006, a new animated feature called OPEN SEASON was released in theatres.

There are four characters to this set:

- BOOG the Bear
- Elliot the Mule Dear
- McSquizzy the Owl
- Mr. Weenie the Dog

The OPEN SEASON PEZ set of 4 is $10.00, Mint-in-Package.

Click here for BIGGER picture &nbsp &nbsp &nbsp &nbsp &nbsp
---
EUROPEAN ARAL PLAYWORLD
PEZ PALS

In the early 1990's, Pez created a unique PLAYWORLD series for ARAL gas stations in Europe. Each PLAYWORLD comes with the following:

- European Pez Pal Boy
- ARAL Body Part
- fold-out gas station display
- special road sign cutouts
- 6 packs of European Pez candy

Everything you see here!

ARAL PLAYWORLDS, with either blonde Pez Pal boy or red-hair Pez Pal boy, are $24.95 each, sold in original package.

Click here to see ARAL Playworld packaging.
---
&nbsp &nbsp &copy Copyright 1995 - 2015 Burlingame Museum of Pez Memorabilia
&nbsp