Welcome to the On-Line Store for Pez Collectors!
---
Lion King Pez

Released in Europe in February 2004, the Lion King Pez dispensers feature your favorite characters.

The five Lion King characters include Pumbaa the warthog, Timon the hyenna, Mufasa, Simba and Nala.

The set of all 5 Lion King characters is $29.95, sold loose.
---
ARCHIE 3.0 and ARCHIE 5.0
Fantasy Robot Dispensers
ARCHIE - Advanced Robotic Candy Handling, Issueing Equipment

We invite you to enter the future.
Meet the ARCHIE series of Fantasy Robot Dispensers.

While these robots cannot mow your lawn, wash your clothes or vacuum your house, each ARCHIE Fantasy Robot is a full working dispenser of Pez candy. And each ARCHIE Fantasy Robot Dispenser features the revolutionary Tilt Tab that greatly improves dispensing ergonomics.

ARCHIE 5.0 is "the world's first self-contained BLINKING dispenser of Pez candy on a stem." Each ARCHIE 5.0 comes with a printed affidavit of this fact. A gentle press of ARCHIE 5.0's Transponder Beacon activates the BLINKING. Press again to de-activate.

ARCHIE 3.0 is $19.95.

ARCHIE 5.0 is retired.

Robot head color may vary.
---
One of the most anticipated Pez releases for 2003 is the HELLO KITTY Pez.

There are 4 characters in the set. From left to right, My Melody, Coro Coro Kuririn (boy hamster), Hello Kitty with bunny friend, and Hello Kitty with bow.

The set of all 4 Hello Kitty Pez is $39.95, Mint-In-Package.

Hello Kitty with bow and Hello Kitty with bunny friend Pez dispensers are sold separately for $8.00 each.

Hello Kitty Pez
---
Pez Bendies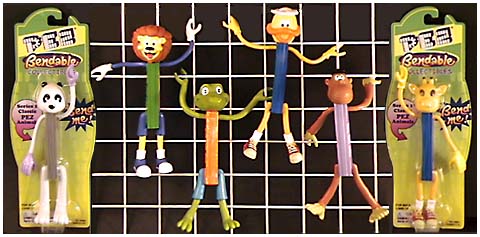 Inspired by the Pez characters created for the Pez Card Game , the new PEZ BENDIES are fully bendable Pez figures. You can rotate the head of each figure to create more wacky positions.
Characters from the classic "Animals" dispensers make up the first series. They include the Giraffe, Panda, Crocodile, 'Lil Lion, Mimic the Monkey, and Duck with Flower. Each figure is approximately 7 inches tall and is packaged on a card. The PEZ BENDIES do not dispense Pez candy.
The PEZ BENDIES set of 6 is $28.00
A single PEZ BENDIE, randomly selected, is $6.00
---
Pez Mini-Keychains

These miniature Pez dispenser keychains are replicas of our favorite past and present dispensers. Each keychain is slightly over 2.5" tall and holds 4 pieces of Pez candy.

Set A includes Peter Pez, Big Top Elephant, and Uncle Sam. (Sold as a set.)

Set B includes the Gorilla, Pony 'GoRound and Lion with Crown.(Sold as a set.)

Set E includes your Simpson Family favorites--Homer, Marge and Bart.(Sold as a set.)

Each set of three characters is $10.00.
---
Pez Keychain Flashlights

Peter Pez, Uncle Sam, and the Psychedelic Eye are now flashlight keychains.

Tilt the head back, press the button on the side, and out comes light! These dispensers do not dispense candy. Each keychain is slightly over 4.5" tall.

The set of three characters is $15.00. Batteries are included.
---
Retired Merlin Mouse &
Koala Whistle Pez

Merlin Mouse is a rare character in the Looney Tune family. Merlin Mouse has a personality like W.C. Fields. Merlin was retired around 1990.

The Koala Whistle is a member of the Merry Music Makers. He has a whistle in the back of his head. The Koala Whistle was retired around 1988.

Merlin Mouse is $30.00.
Koala Whistle is $35.00.
---

VISA - MasterCard - Discover gladly accepted.

To order by telephone, please call (650) 347-2301.
Our hours are 10:00 am - 6:00 pm Pacific Time, Tuesday - Saturday.

Print out the order form and mail to:
Computer Spectrum c/o Pez
214 California Drive, Burlingame, California USA 94010.
or fax the completed order form to (650)347-3840


Visit our new secure web site and
place your Pez Order directly on-line.
---
[ Pez Exhibit] [ MORE Pez Store] [ Pez Information] [ What's New!]
STORE DIRECTORY
Return To Burlingame Museum of Pez Memorabilia

This Web Page is not affiliated with Pez Candy, Inc. Pez is a registered trademark of Pez Candy, Inc. You can contact the Pez candy company at Pez Candy, INC., 35 Prindle Hill Road, Orange, CT 06477.
&copy Copyright 1995-2004 Computer Spectrum of Burlingame and the To Burlingame Museum of Pez Memorabilia